IADIS International Conference


e-Learning 2013

23 – 26 July, Prague, Czech Republic

Co-Organized by:
Sponsored by:
Media Partner:

NEW Final Program

NEW Social Event
Guidelines for Presenters

Keynote Speakers (confirmed):
Thomas C. Reeves, Professor Emeritus of Learning, Design, and Technology, College of Education, The University of Georgia, USA
Doc. Ing Jan Lojda, President of the Czech Association of Distance Teaching Universities, Czech Republic
Conference Tutorial (confirmed):
Peter L. Stanchev, Kettering University, USA and Institute of Mathematics and Computer Science, Bulgarian Academy of Sciences, Bulgaria
The IADIS e-Learning 2013 conference aims to address the main issues of concern within e-Learning. This conference covers both technical as well as the non-technical aspects of e-Learning.
The conference accepts submissions in the following seven main areas: Organisational Strategy and Management Issues; Technological Issues; e-Learning Curriculum Development Issues; Instructional Design Issues; e-Learning Delivery Issues; e-Learning Research Methods and Approaches; e-Skills and Information Literacy for Learning.

Selected authors of best papers will be invited to submit extended versions of their papers to selected journals including journals from:


NEW The best papers will be selected for publishing as extended versions in the IADIS International Journal on WWW/Internet (ISSN: 1645-7641) and also in the Interactive Technology and Smart Education (ITSE) Journal (ISSN:1741-5659).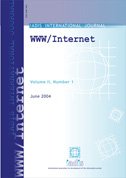 Conference Official Language: English
This is a blind peer-reviewed conference.
Conference contact: This email address is being protected from spambots. You need JavaScript enabled to view it.